Integrate the power of
content marketing with
the reach of social media
Programmatic Banner Advertising:
Reach the LGBT community across virtually ALL LGBT websites online today
Using the strategies by LGBTQ Brand Voice, our clients are improving CPC and CPM. We identify the influencers and audiences that fit your or your client's exact target profile. We then seamlessly serve ads across every digital channel to meet your audiences where they are the most active - from social to email to mobile, etc.
Our techniques merge with traditional online strategies, including hyper-targeted banner ads and Facebook newsfeed ads, optimized for desktop, mobile and tablet viewing... monitored and measured for success!
Reach the LGBT community across virtually ALL LGBT websites online today... total reach is several million LGBT consumers on the Q.Digital network, Prides Media's network, Gay Ad Network, GayStarNews.com, Pink.News, InstinctMagazine.com and more... as well as millions more on mobile LGBT apps including Grindr and Scruff. In addition, LGBTQ consumers on Facebook, Twitter, Tumblr, LinkedIn, Instagram and Google Plus are also available within targeted reach.
Pink Banana Media Receptions

We invite you to join us, where you'll meet some incredible LGBTQ movers and shakers
in the local business community, as well as LGBTQ Influencers and other new media individuals
who have become ever-more relevant in recent years.

These receptions are our way of CELEBRATING and BRINGING TOGETHER
while partnering with organizations that have been
instrumental in our success along the way.

Philadelphia - August 13, 2018
Our Work Flow
Our primary LGBTQ marketing services fall into the following prioritization and work flow.
Clients typically begin with Level 1 services and grow from there, moving up to Level 2-4.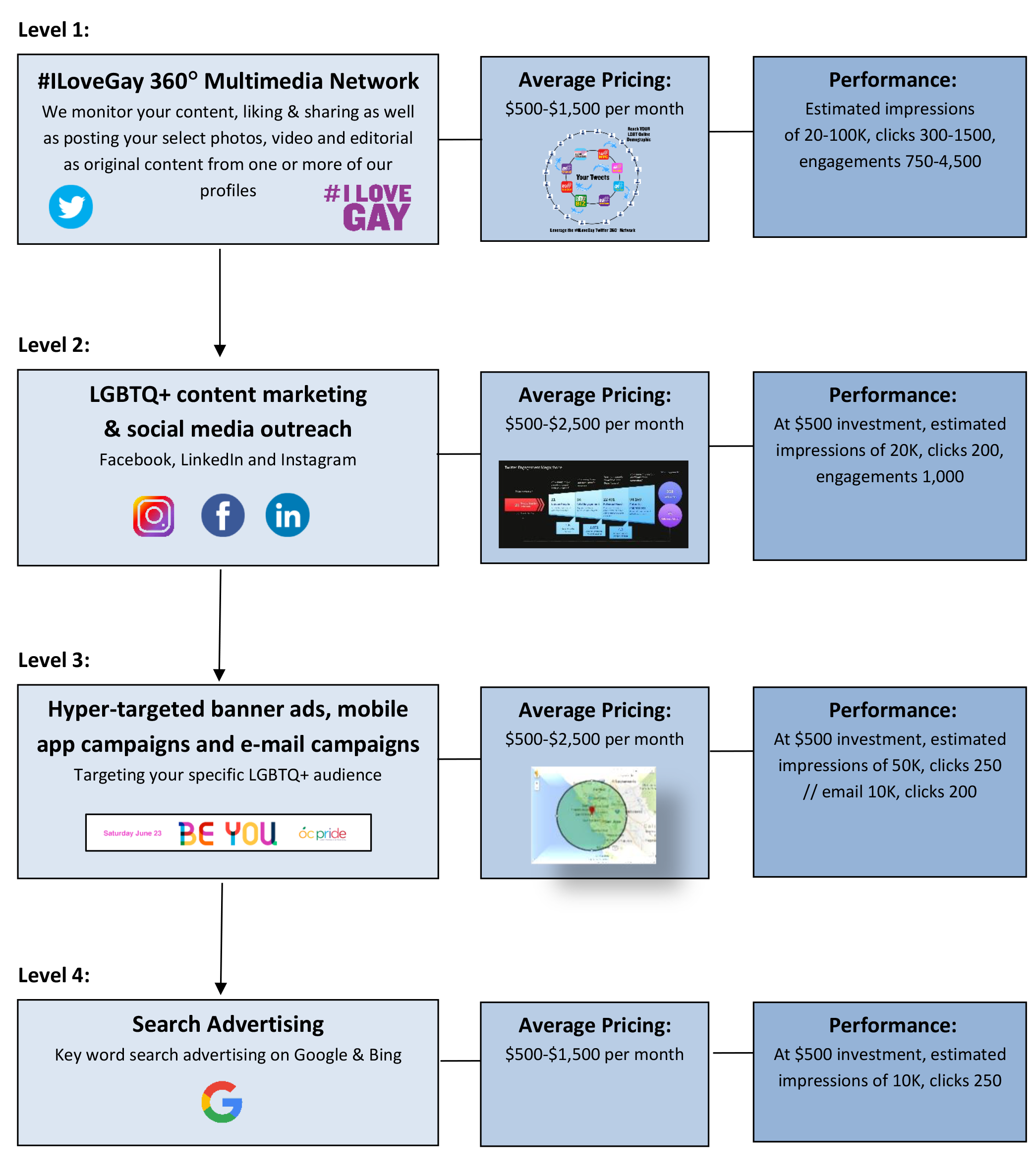 Our 2018 Special Offer
We are offering an introductory monthly package that includes Level 1's Twitter 360° Network
+ 1 content marketing & social media outreach per month from Level 2
at $750 per month for a 6-month commitment, billable monthly.
Inquire For More Info
Estimated impressions and reach for Pink Banana Media / #ILoveGay outreach
Views
Clicks
CTR
E-Mail Campaign
10,000
200
2.0%
Banner Ads
50,000
250
0.5%
Facebook & Twitter Ads
20,000
200
1.0%
ILoveGay Twitter 360°
20,000
300
1.5%

---

Impressions
Engagement
ER
Facebook & Twitter Ads
20,000
1,000
5.0%
ILoveGay Twitter 360°
20,000
750
3.5%
*Engagement: Likes, Comments and Shares / ER = Engagement Rate
*Estimate is for a $500 monthly investment in each line item above
Some Recent Sample Client Work
LGBT Influencer Programs We've Done Recently
Take a look at some of the programs we managed with clients in 2017,
incorporating LGBT influencer content with targeted Facebook & Twitter advertising.
---
We had 3 LGBT influencers on this trip, sponsored and hosted by the folks at Visit Laguna. They captured content and footage throughout the entire weekend, including both Orange County Pride and the Laguna Beach Pride Party held on Sunday, June 25th. This content was brought together into a single blog post, which was then promoted via Facebook & Twitter's hyper-targeted advertising opportunities, reaching a focused LGBT audience that has shown a distinct interest in Laguna Beach and Orange County events and activities.
Click for more...
Comcast California and San Francisco Pride
That same weekend, on behalf of Comcast California, we teamed up with the folks at GayClubTV to capture photo & video footage of Comcast California's San Francisco Pride presence, including interviews at their booth with the ever-popular Farrah Moan, as well as their presence in the San Francisco Pride Festival held that Sunday. Some of this content was published live via Facebook & Twitter, as well as compiled and edited into a high quality video on YouTube. The final blog post was then promoted via Facebook & Twitter, targeting the LGBT Northern California communities served by Comcast in that area.
Click for more...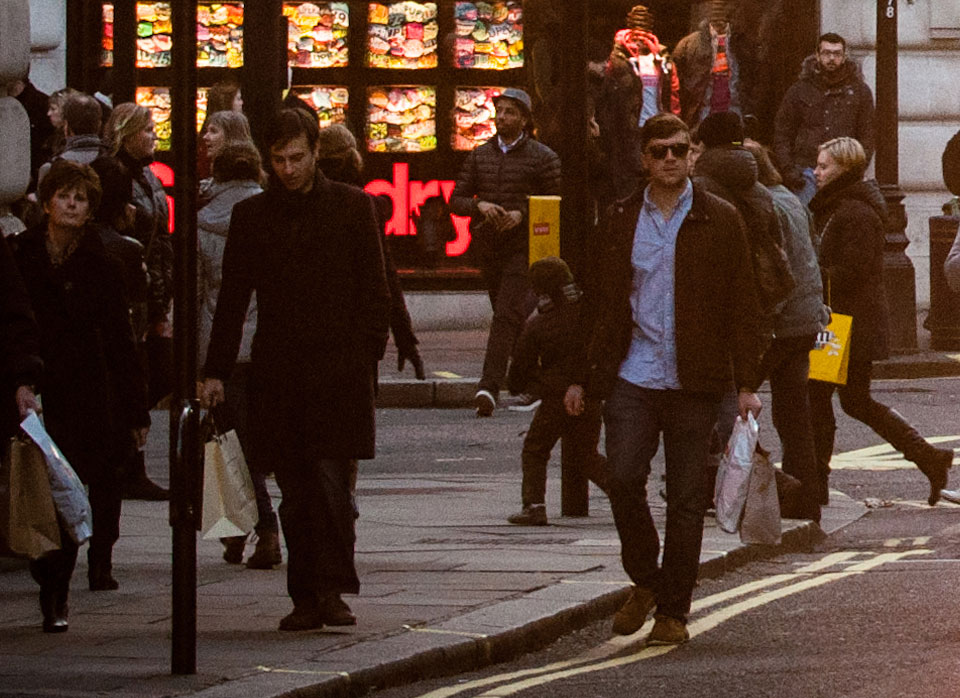 market specializations
- Geo-Targeted Campaigns
- LGBT Destination Marketing
- LGBT Tourism/Hospitality
- US Hispanic LGBT Market
- LGBT Seniors
- LGBT B-to-B Market
Packages
Entry Level Proposal
LGBT Brand Voice, The Magazine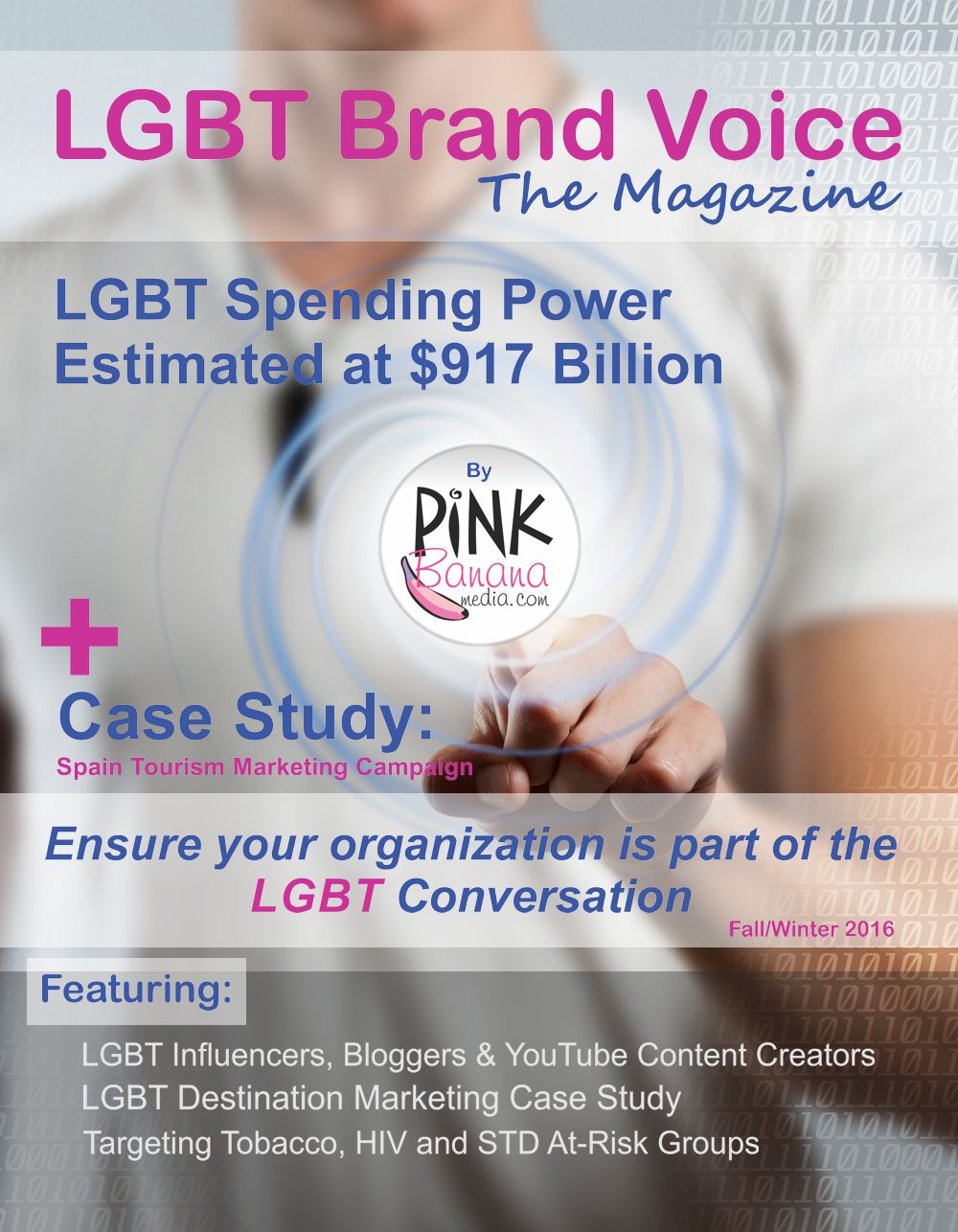 Join Our Journey With Us!
We've launched a hybrid 28-page brochure and magazine, publishing some of our latest LGBT New Media blog posts and articles, as well as LGBT business features from our #LGBTBold campaign. We're opening up the opportunity for you and your business to be there with us by advertising in our LGBT Brand Voice, The Magazine with a full-page, 8-1/2" x 11" color ad.

Menu
| | Services | Products & Websites | Events | Company | Contact Us |
| --- | --- | --- | --- | --- | --- |
| | Pink Banana Media is a Certified LGBT Business Enterprise | | | | |